Type Promotion Rules¶
Array API specification for type promotion rules.
Type promotion rules can be understood at a high level from the following diagram: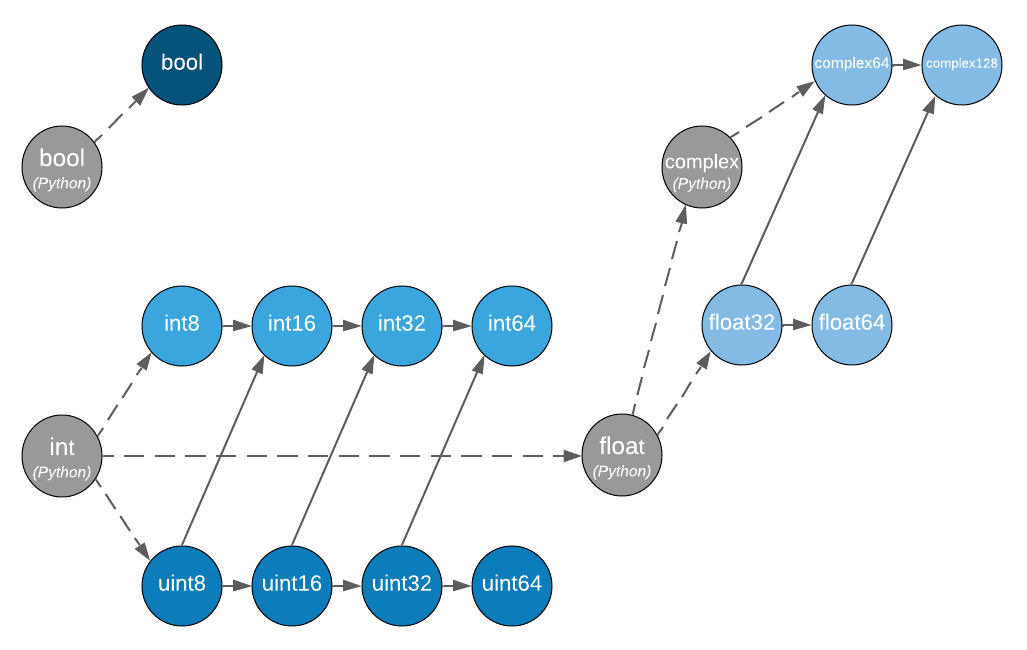 Type promotion diagram. Promotion between any two types is given by their join on this lattice. Only the types of participating arrays matter, not their values. Dashed lines indicate that behavior for Python scalars is undefined on overflow. Boolean, integer and floating-point dtypes are not connected, indicating mixed-kind promotion is undefined.
Rules¶
A conforming implementation of the array API standard must implement the following type promotion rules governing the common result type for two array operands during an arithmetic operation.
A conforming implementation of the array API standard may support additional type promotion rules beyond those described in this specification.
Note
Type codes are used here to keep tables readable; they are not part of the standard. In code, use the data type objects specified in Data Types (e.g., int16 rather than 'i2').
The following type promotion tables specify the casting behavior for operations involving two array operands. When more than two array operands participate, application of the promotion tables is associative (i.e., the result does not depend on operand order).